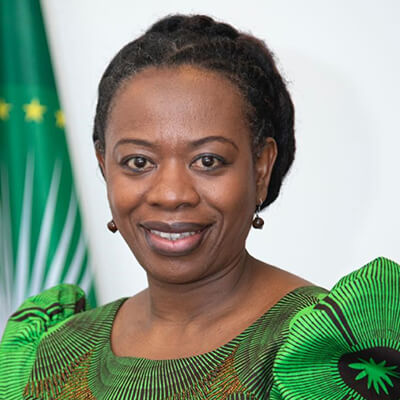 H.E. Dr. Monique Nsanzabaganwa is the Deputy Chairperson (DCP) for the African Union Commission. She is in charge of Administration and Finance and assists the Chairperson in the execution of his functions to ensure the smooth running of the Commission, and acts as the Chairperson in his absence.
Dr. Nsanzabaganwa holds a Ph.D. in Economics, and Honorary Doctorate of Commerce, University of Stellenbosch. She has over twenty years' experience developing and leading programs that drive financial inclusion and economic prosperity. Prior to her election she held senior positions in the Government of the Republic of Rwanda including Minister of State in charge of Economic Planning, Minister of Trade and Industry and Deputy Governor of the Central Bank. Dr. Nsanzabaganwa has supported various Gender Empowerment initiatives through her memberships in the Alliance for Financial Inclusion Gender committee, Women's World Banking African Advisory Council, the Graça Machel Trust Expert Group on women's financial inclusion and the digital economy in Africa, New Faces New Voices Rwanda chapter, Unity Club amongst others.
Dr. Nsanzabaganwa was elected by the 34th African Union Assembly for a four-year term renewable once. She is the first woman to hold the position of Deputy Chairperson of the African Union Commission.